Sweet Way for Women to Lower Stroke Risk
By Kimberly Beauchamp, ND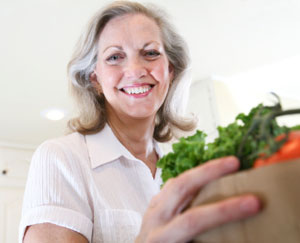 In the new study, for each 50-gram-per-week increase in chocolate consumption, the risk of
stroke
decreased by 12%.
The sweet treat with benefits
The new study looked at chocolate consumption in more than 33,000 women who were part of a study group called the Swedish Mammography Cohort. The women were followed for about ten years, and stroke events during this time were recorded.
This isn't the first time that the health benefits of chocolate have made headlines. Previous studies have shown that chocolate has various effects that may help prevent heart disease, including:
lowering blood pressure,
inhibiting LDL ("bad") cholesterol,
making the blood less prone to clotting (decreasing platelet aggregation), and
improving insulin sensitivity.
Most of these perks have been associated with eating dark chocolate, while eating milk chocolate or white chocolate doesn't seem to translate into better heart health. Milk inhibits the absorption of the cocoa's antioxidant flavonoids (which are found in the cocoa solids) responsible for chocolate's health-boosting effects, and white chocolate has minimal cocoa solids (around 24%). Dark chocolate typically contains about 70 to 80% cocoa solids.
In the new study, for each 50-gram-per-week increase in chocolate consumption, the risk of stroke decreased by 12%. Interestingly, most of the chocolate available in Sweden at the time of the study was milk chocolate, containing only about 30% cocoa solids.
Weigh the options
While this study adds to a growing body of evidence of the fantastic benefits of chocolate, a couple of squares per day should be sufficient to reap the same benefits that these women saw. Consider these points before gorging on the sweet stuff.
This was an observational study, meaning that the women were not given chocolate in a controlled trial to test the effects of chocolate consumption on stroke risk. The study still provides useful information—that eating chocolate was associated with decreased stroke risk but this isn't the same as proving that chocolate was responsible for the decreased stroke risk seen in these women.
Chocolate can cause heartburn (gastroesophageal reflux, or GERD) in some people. If you're affected by GERD, you may need to avoid chocolate altogether and definitely close to bed time, when symptoms can peak.
Chocolate is also high in fat and calories, so eating too much isn't great for the waistline.
Antioxidants similar to those in chocolate can also be found in other foods. You might be able to get the same benefit by increasing your intake of other flavonoid-rich foods, such as blueberries, cranberries, red beans, and green tea.
Cocoa powder is a great alternative to eating a chocolate bar. Add a tablespoon to your morning smoothie for a heaping dose of antioxidants and fiber. Look for non-alkalized cocoa powder, as it hasn't had its flavonoids removed in the "Dutching" process.
(J Am Coll Cardiol 2011;doi:10.1016/j.jacc.2011.07.023)
Kimberly Beauchamp, ND, received her doctoral degree from Bastyr University, the nation's premier academic institution for science-based natural medicine. She co-founded South County Naturopaths in Wakefield, RI, where she practiced whole family care with an emphasis on nutritional counseling, herbal medicine, detoxification, and food allergy identification and treatment. Her blog, Eat Happy, helps take the drama out of healthy eating with real food recipes and nutrition news that you can use. Dr. Beauchamp is a regular contributor to
Healthnotes Newswire
.
Copyright © 2011 Aisle7. All rights reserved. www.Aisle7.net